How to create a Salesforce Centre of Excellence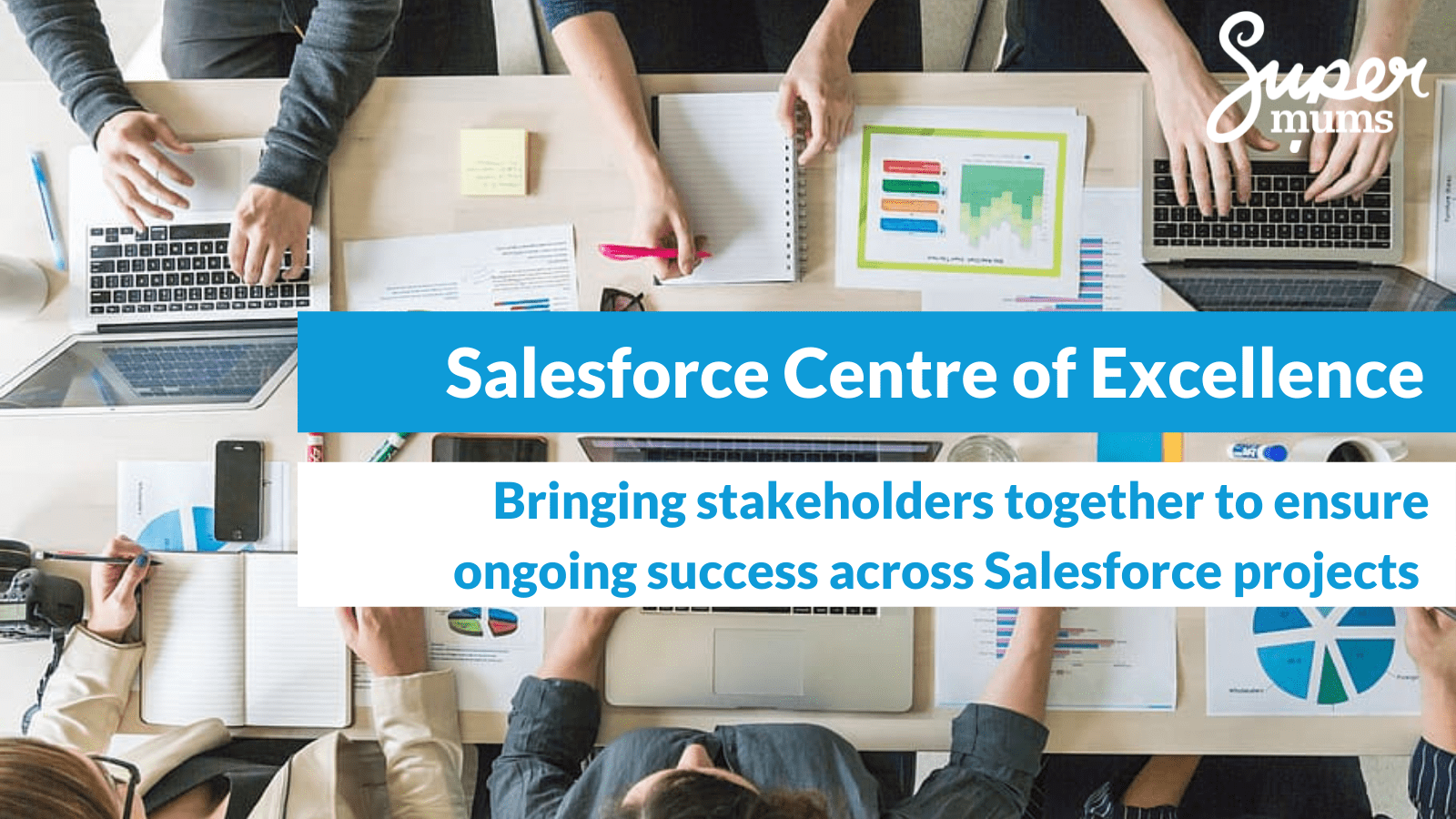 Managing Salesforce is a team effort and involves buy-in from all levels of the organisation to support ongoing success, whether you're a solo admin or a wider team. This is where a Salesforce Centre of Excellence (CofE) come in. Never heard of it before? Let me explain more……
A Salesforce CofE basically acts as a central governing body for the entire organisation. It brings together stakeholders from across the organisation to create a single, well-defined group that is responsible for making decisions when it comes to Salesforce.
Without an effective CofE you may struggle to:
Prioritise requests and workload
Get sign off for new products, features and requirements
Secure resources for developing the CRM
Get different teams/departments bought into the CRM
Design and roll out a CRM road map for the future.
Report on the ROI of the CRM
Maximise user adoption if communication is unclear
We wanted to share tips on how to set up a Centre of Excellence to make sure you have a good governance structure in place to support the ongoing planning, management and maintenance of your salesforce system to reduce user frustration and poor adoption.
We have summarised the key elements in the diagram below: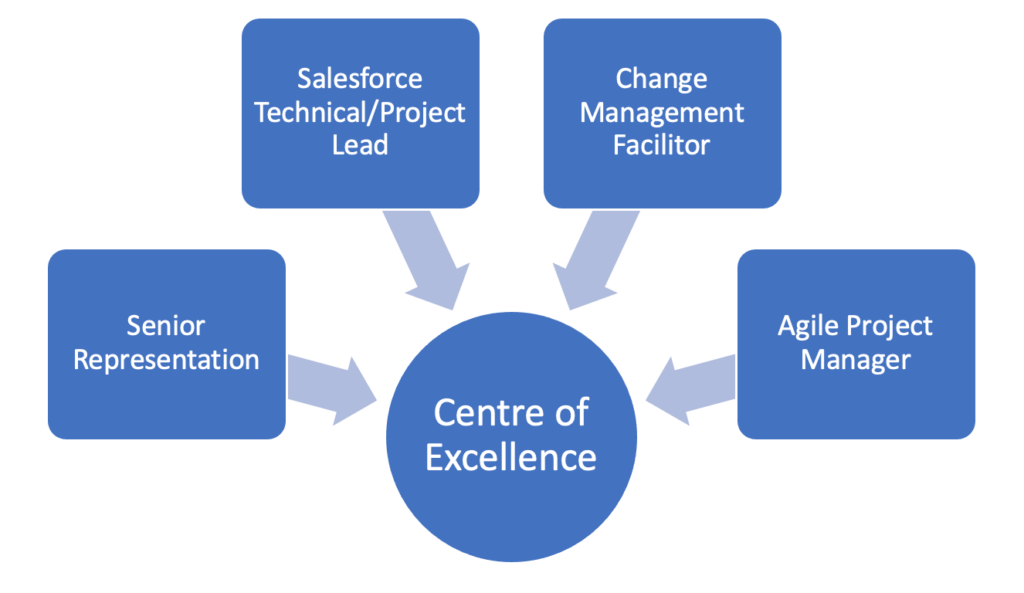 The Centre of Excellence is responsible for the CRM Strategy, managing governance and setting and evaluating the metrics of success. To achieve success, they are responsible for allocation suitable resources and helping to determine priorities for investment and time of the technical team.
Typically the group would meet monthly or quarterly depending on the level of transformation taking place.
What are some of the essential ingredients for the Centre of Excellence?
CRM Strategy, Roadmap & Action Plan – The CRM Strategy clearly outlines the business case and performance metrics that the CRM is expected to support with stages of implementation and justification for investment. It should facilitate decision making to create a detailed road map, agreed deliverables and a clear progress report on ROI.
Cross-Departmental Team – A CofE requires a cross-departmental decision making team with bottom up and top down representation.

An internal leader should be appointed as the Executive Sponsor. They will typically lead the COE representing the business vision, goals and priorities.
Senior management representatives who are responsible for sponsorship, business analysis, compliance and/or adoption of Salesforce CRM within their department or cross-departments.
Salesforce Technical/Project Lead – Will have oversight of the roadmap, project development and the backlog informed by on the ground business analysis and the technical implementation team. They are responsible for communicating new requirements, agreeing prioritisation, and reporting on work in progress or completed.
Agile Project Management Lead – Will have manage the what, when and how things will be scheduled for implementation with oversight of internal and external influences.
Change Management Lead – Will manage a communication strategy to communicate the why, what and when of digital transformation changes, with input from senior exec level to the salesforce team.

Investment in Business Analysis – The Salesforce Technical/Project Lead will prepare for these meetings by collating high level requirements, estimated effort and the associated business case by working closing with a delivery team. Individuals may wear one or more hats in this function, but the common roles are:

Salesforce Champions are representatives within departments who oversee user adoption, identify challenges, uncover requirements, and report these to the senior managers.
Business analysts elicit detailed requirements with teams/departments to produce the business case and requirement log.
The Salesforce Technical team are responsible for building and managing the system day to day to understand progress, challenges, and outcomes.
This content is shared from our Consultancy Skills course. Visit our course training page for more details. We also deliver in-house training for companies who want to skill up their CofE team. 
Subscribe To Our Weekly Top Tip Bulletin
Get Updates And Learn From The Best