How a Volunteer Salesforce Mentor can Further your Career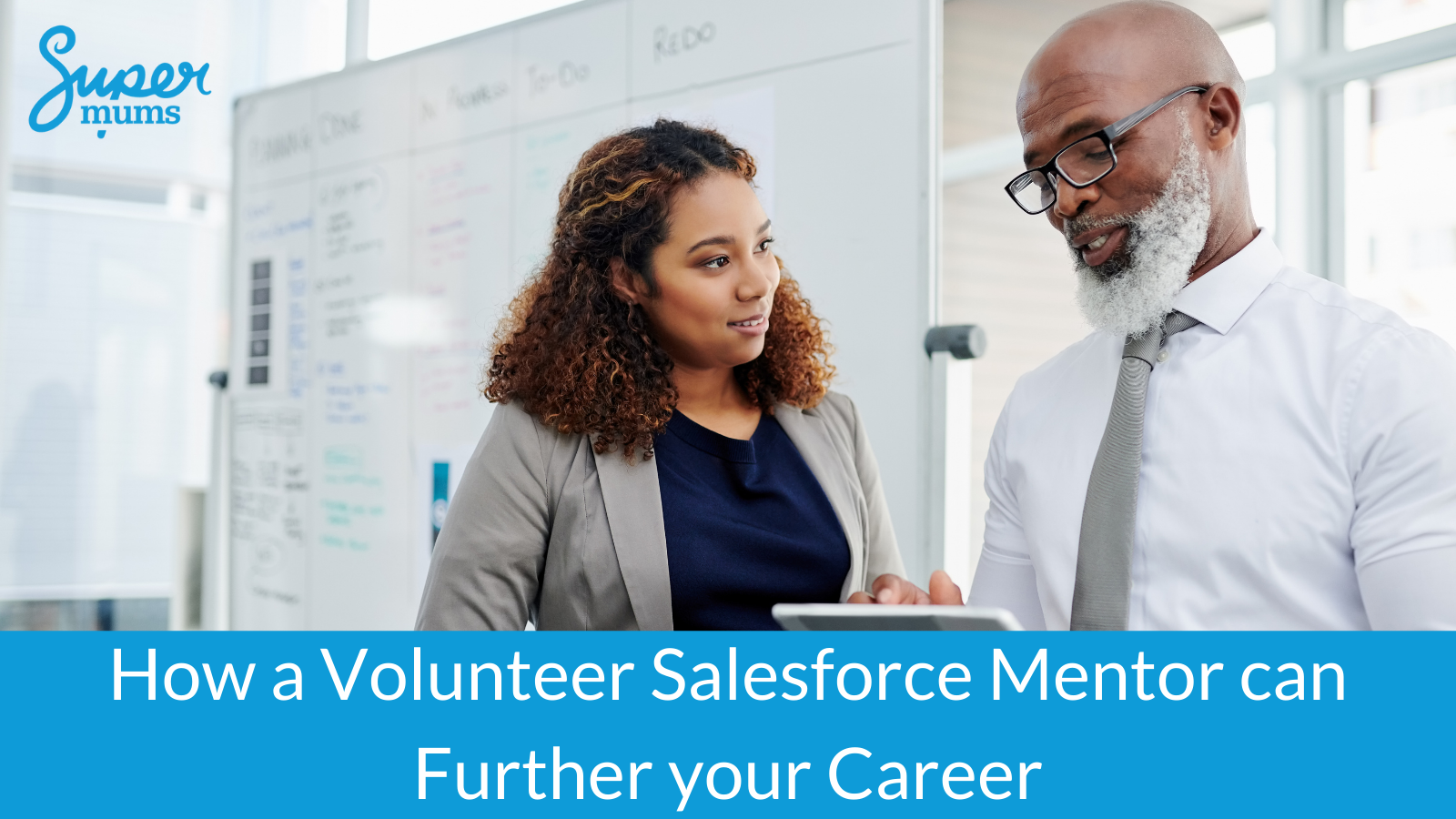 June 1 – 7 is Volunteers Week so what better time to shout about the benefits of having a volunteer Salesforce Mentor as we celebrate how they can help you accelerate your career in the ecosystem.
At Supermums we benefit from a global network of volunteer mentors who give their time to supporting our new admin trainees as they launch their Salesforce careers. Having a mentor during these first few months can be so important and really beneficial to your success. So far we have matched over 100 amazing mentors to 400+ trainees who have gone through our programme and this week we are celebrating the efforts of our volunteers during #VolunteersWeek, who have contributed over 11,000 hours of volunteer time to support our trainees.
Benefits of Having a Mentor
A great mentor will drive the relationship, providing guidance and leading the mentee down the path of success. A mentor could offer one or more of the following aspects to help you build your career:
Give you expert guidance and advice as they are more experienced than you in a given product.
They can look over your work and verify if you have done it correctly to quality assure it. This can give you a useful referee.
They can help you brainstorm solutions for a problem you are tackling.
They can give you career advice and interview tips to help you land a job.
Here is an example of how a great mentoring relationship can work:
At Supermums we match all of our Admin trainees with a 1-2-1 mentor during the first six months of their learning journey. During this time the mentor provides 1-2hrs of support each week offering support, guidance, checking they have understood a new competency confidently and marking their homework tasks. They also support them to prepare for job interviews when they are ready to land their first job.
At Supermums we only take on mentors who have been a hands-on Salesforce admin for at least two years and can offer solid advice. We also interview them before they get involved in mentoring so you know you are in good hands.
How to Vet & Interview a Potential Mentor
You want to understand their motivation for mentoring…are they involved for the right reasons?
Do they listen to you or they are just advising you to do XYZ without answering your questions?
Do they have sufficient experience and knowledge to advise you?
Are they interested in understanding your learning style and supporting you in the way that makes sense for them? Take a free test here to find out our learning style
Is there good connection and chemistry? You want to feel like you connect with people.
How to Establish the Right Relationship
We have found the following components essential to establishing a mentoring relationship:
Create a weekly routine for catching up so you know it's planned and in the diary.
Your mentor should understand your learning style so they can mentor you in the best way. Take a free test here
Set clear goals and accountability for the mentoring relationship. What does long term success look like?
Set a weekly agenda so the mentor really feels they can prepare and you can get the most out of the session.
The mentor should try to coach you to seek answers yourself rather than always give you the answer to build your confidence.
Create an environment where you can share screens or look at things directly so you can put theory into practice.
What Sort of Advice Might They Give You?
Here are some top tips that our mentors share with our admins shared by Simon des Forges, Debbie Nevin and Cassandra Goodenbour:
Spend time working on your 'why'. It can be very tempting to jump straight into building and show off your fantastic new skills but remember that a large part of your role is to rewind to the business need and make sure any requests are relevant, appropriate, and considered'
Take some time to get to know your org before doing anything and speak to everyone! Colleagues, users, devs can all speed up your understanding of the architecture, automation and pain points of your new org. It's also a great way to make allies for when you make changes in the future'
'Get on App exchange and research what is available. There are some fantastic apps that can make your life a whole lot easier and open up vast possibilities for you org. Rollups? There's an app for that. Backups? An app for that too. Automated testing? Got you covered! You will soon have a selection of go to apps to help you out'
Start connecting! There is an army of peers out there who love to help. Twitter, #OhanaSlack and the Supermums Alumni are just a few of the places you can go for help and even share your knowledge. Before you know it, you will have a wealth of knowledge available to you. Don't for get your local user group as well!'
Get to know your users by sitting with them and seeing them work. Understanding how they work and how they use Salesforce helps you understand their requirements and how you can help and support them. Also, the more they know you the more likely they are to come to you with ideas to improve the system and getting it to work for them. I.e. better user adoption
NETWORK. NETWORK. NETWORK! – I actually use some of my mentoring sessions as little networking events as well. Based on my mentee's end goal I try to tailor who I want them to talk to, to start to feel comfortable.
Go to Salesforce sponsored events (virtual or in-person) – This ties into networking, but also I always feel like I get a new sense of energy from them
Find other skills that will help you in your journey – Training Skills, Change Management skills and Project Management
What Can You Achieve with a Mentor?
With such a huge responsibility, how can you be sure you're fulfilling your side of the bargain and creating a constructive and rewarding mentoring relationship? Hear from 3 of our Supermums alumni about their mentors and how it helped them.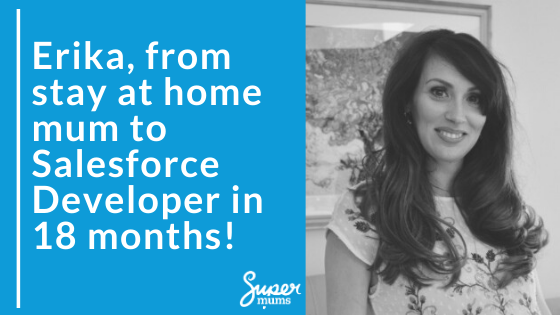 Erika McEvilly, Associate Salesforce Developer at Deutsche Bank, London. Supermums Admin Alumni 2019.
"I was so lucky, he was a great mentor. Somehow, Supermums found me a french speaking mentor but he lived in Sweden. We spoke every week after the live classes and once i had made a start on the homework tasks. We would spend time brainstorming questions and answers. It was great as he knew instantly if i had missed something or got the answer wrong and would steer me to find the right answer. Having a mentor and the work experience project was one of the main reasons that i chose to study with Supermums over other courses."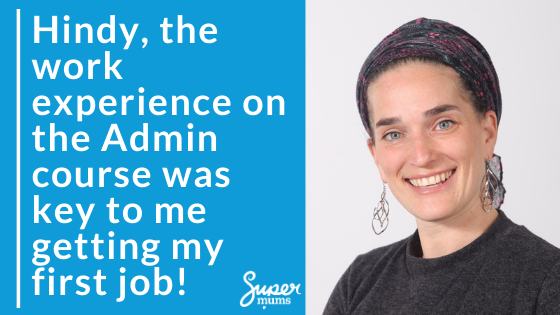 Hindy Fishman, Salesforce Administrator at OurCrowd, Israel. Supermums Admin Alumni 2020.
"My mentor was fantastic! He was based in the US and I in Israel, the time difference is significant. He was so accommodating at making himself available at convenient times for me. He was really great and kept in touch well after the course work was finished. He really believed in me and encouraged me along the way. He made lots of suggestions of next steps and constantly tagged me on LinkedIn regarding different opportunities. He even surprised me by buying me the Salesforce Career Playbook by Martin Gessner."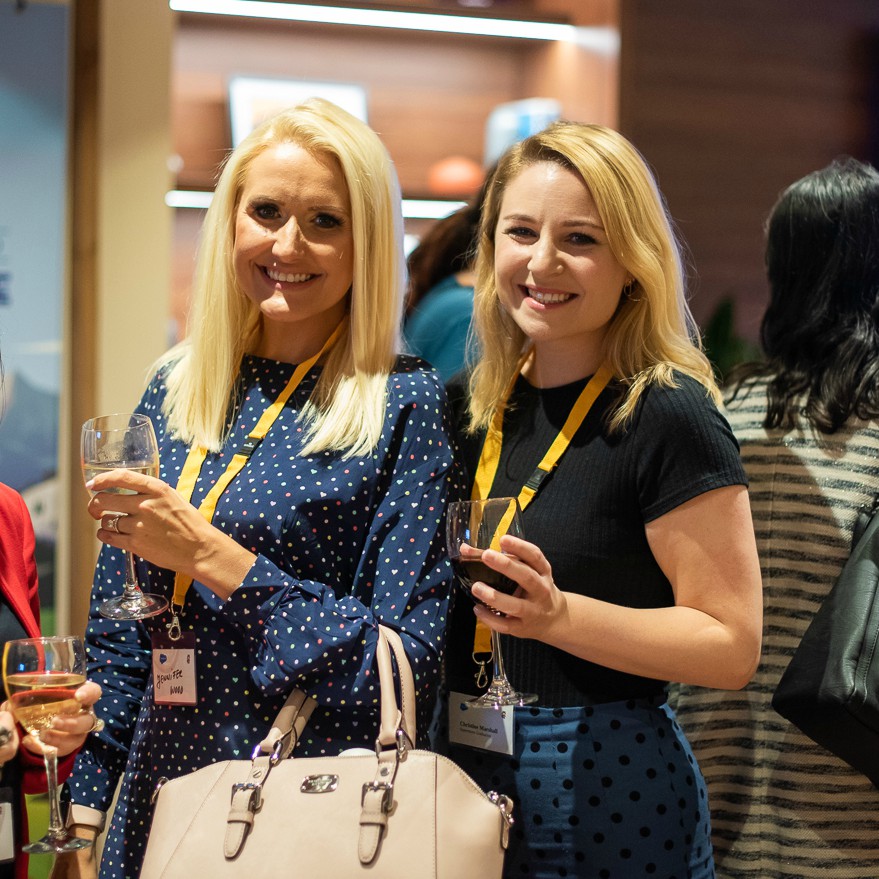 Jennifer Wood, Marketing & PR Manager at Supermums and Admin Alumni 2018.
My mentor was Christine Marshall and she was literally AMAZING. Here's my top 3 things that she really helped with:
#1: "Explaining things in a non-techy way. My background is marketing with no experience of a CRM other than from the front end. Being able to have someone explain what you are trying to achieve and apply it to a real life situation made it far easier to understand what I was actually trying to do."
#2: "Don't just be available on email. We used WhatsApp, text, email, calls, FT, you name it, we used them all. Sometimes it's just easier to speak to someone than try to explain something in 50 emails."
#3: "Be patient. I'm sure I wasn't the easiest student and probably asked the same question multiple times but I learn by doing not listening and watching someone else. Having a mentor who is kind, understanding and patient, certainly helped me and I never felt like any question was stupid."
How Can I Get Involved?
Do you think you could put this into practise and support a Supermums trainee on their learning journey? We are looking for mentors across the world. We are a growing, global community so wherever you are you can help! Apply now and our team will contact you to have a chat.
Start your Salesforce Admin Career with a mentor, work experience project, references and supporting finding you that first role.

Subscribe To Our Newsflash
Get Updates And Learn From The Best