Our last blog was 'C for Community and Dreamforce is Salesforce's ultimate 'community' gathering. Once a year Salesforce takes over the Mission District of downtown San Francisco and transforms it into a festival of Salesforce.
Over 171,000 people from across the globe descend on the city to attend over 2700 sessions and an incalculable number of meet ups and social events. Keynotes are given from Marc Benioff plus other senior leadership and celebrities. This year included speeches and interviews with David Beckham, Deepak Chopra, Arianna Huffington, Mean Rapinoe, Emilia Clarke and… President Barack Obama. Not to mention special performances by Alicia Keys, Beck and Fleetwood Mac.
So, it was great, but what did our team (a bunch of first timers) make of it all?
Vicki Moritz Henry, Head of Training
Your Dreamforce in three words: Inspirational, intense and worthwhile!
Best Dreamforce moment: Happening upon so many people who were on my wish list of people to meet!
Worst Dreamforce moment: Waiting in line for food
Biggest Dreamforce achievement: This was my first time presenting at Dreamforce (and my first Dreamforce!), so my biggest achievement was definitely presenting in three very different settings on different topics and not only making it through, but especially seeing people nodding along in the audience and coming up to chat after.
Know for next time: Don't bother looking at the sessions – pick out a keynote or two and count on spending the rest of the time networking.
Advice for first timers: Don't try to do it all. You'll wear yourself out running between back-to-back sessions and it may well be more worth your time to chat with other people on a line with you or make a connection.
Biggest surprise: The sheer size of it all. It takes over San Francisco!
Brooke Bracy – Training Manager USA
Dreamforce in three words: Dream come true!
Best Dreamforce Moment: Accompanying Supermums for the Powerhouse Together event in Salesforce Tower on Monday, and truly feeling like part of this incredible team!
Worst Dreamforce Moment: Being late for Vicki's #MyTrailblazerStory session! ☹ Now I know that the map meant 15 minutes in a car, not on foot!
Biggest Dreamforce Achievement: Being there! It seemed like a far off dream earlier this year, and I managed to make it happen through hard work and dedication!
Know for next time: Learn any bus and train routes that will be used AND the routes/distances between the main locations on the Dreamforce campus.
Advice for first timers: Leave your computer in the hotel unless you absolutely know you'll need it. Security stopped me regularly for revision when it was in my backpack. Plus, every pound counts after a couple of days.
Biggest surprise: Alicia Keys' visit at the keynote on day one—"This Girl is on Fire!" resonated so much with the exciting change I am making at this time to join Supermums and help other mums launch their careers in Salesforce.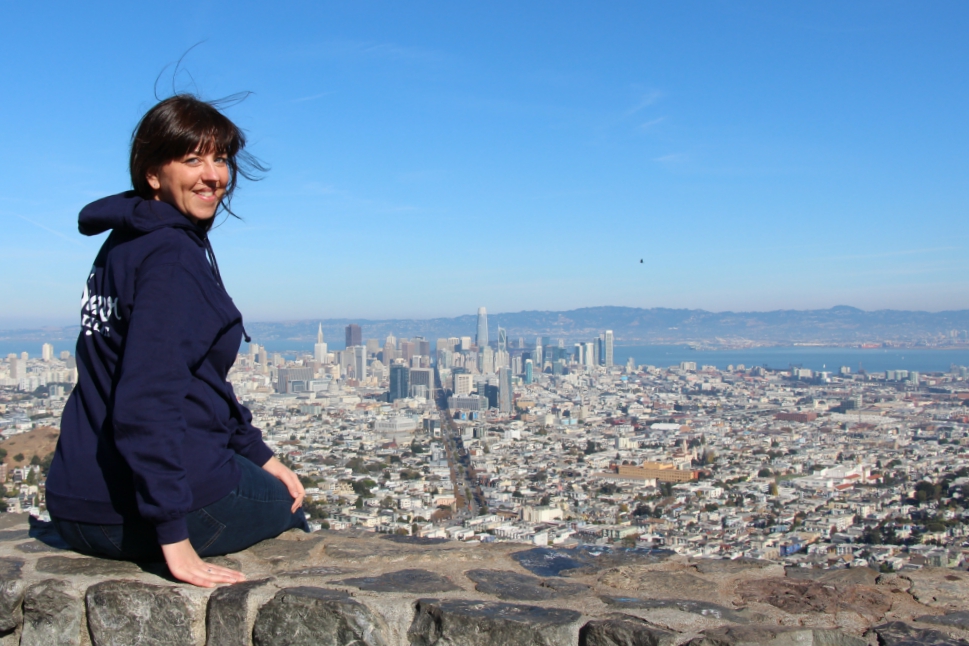 Abigail Julian – Marketing & Partnerships Manager
Your Dreamforce in three words: Sunny, busy, motivating
Best Dreamforce moment: anytime I randomly bumped into people I knew from the community that until this point I had only met on social media or via email. A particular highlight was meeting my Supermums mentor for the first time in real life, not just on a computer screen!
Worst Dreamforce moment: seeing the line for the coffee stand in between the Moscone centres… I really wanted a coffee with Appy on it!
Biggest Dreamforce Achievement: I enjoyed delivering our session at the Powerhouse Together event we held on Monday. Sharing the Supermums mission and in particular a little about my own story, in the Salesforce Tower, overlooking the San Francisco Bay, surrounded by the Salesforce community, really made me realise how far I have come since I started the Supermums programme 18 months ago.
Know for next time: don't bother taking up space in your suitcase with a book – you wont have time to read it, instead, leave space for the ridiculous amount of swag you will find yourself collecting.
Advice for first timers: flat comfy shoes, battery packs and Peets coffee will get you through the week.
Biggest surprise: feeling right at home. As it was my first Dreamforce I expected it to feel overwhelming, stressful and a little our of my comfort zone. And at some point is was all those things, but mainly it was fantastic, welcoming and fun!
​Fancy hitting San Francisco next year to be part of this great community? Get trained up in Salesforce and you could be there, meeting other Trailblazers and Supermums. If you are new to Salesforce our next Administrator Training start date is in March. If you want to take the next step in our Salesforce career, we have Consultancy and Platform Developer courses starting in January!
​