#1 Getting the Golden Hoodie is as awesome as it sounds
So, we've been there, done that and quite literally got the t-shirt. You may have heard Heather , the founder of Salesforce Supermums, went several better and bagged a coveted Golden Hoodie!
Heather was presented with her Golden Hoodie in front of nearly 3000 people during the Salesforce World Tour morning keynote. Heather's presentation video (which we all cried through and you can see HERE ) demonstrated her work as an inspirational Trailblazer, paving the way for many more mums (and dads) to have rewarding careers in Salesforce. Heather used her stage time to talk about how empowering mums into flexible work is a winner for everyone.
#2 Our Supermums are as nice in person as they are online
We have over 115 Supermums (and dads) in our community and from the talks we had with people at our stand, many more to come! As we mainly work and train remotely, World Tour was a great opportunity to meet up and share our challenges, successes and learning journeys. We are looking forward to building our community of Supermums and dads both online and with more opportunities to meet in person. Follow us to keep up to date on Facebook Twitter and Instagram.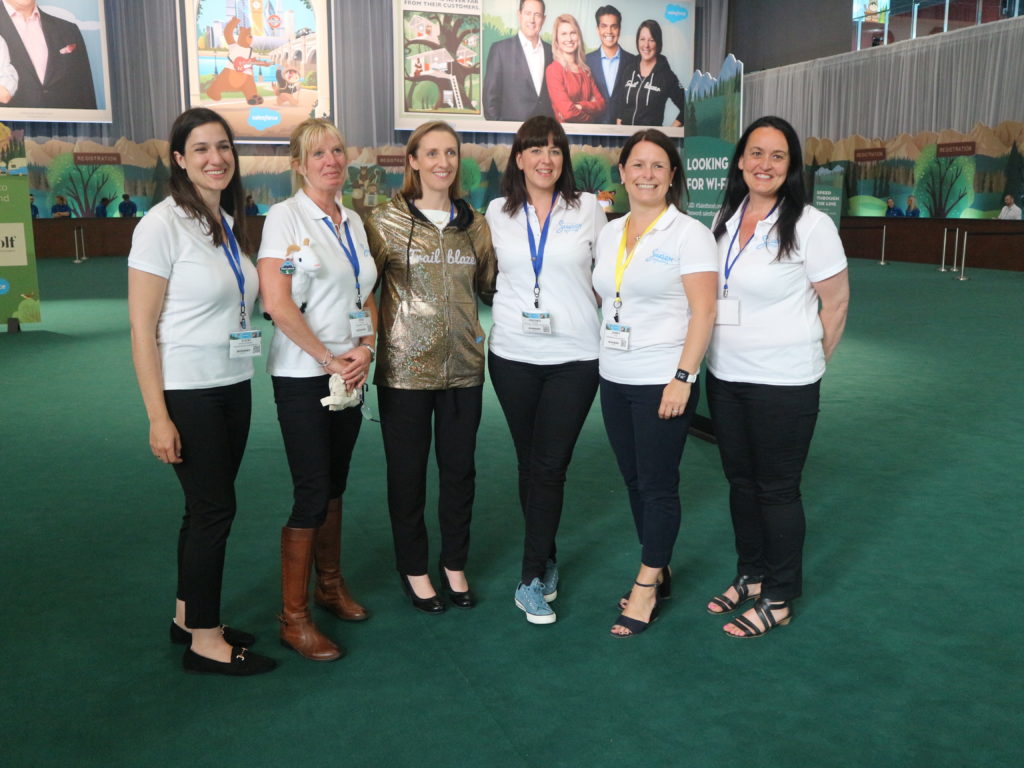 #3 Many businesses in the Salesforce ecosystem share our values
It was fantastic to be approached by so many businesses who are as serious as we are about making work flexible and rewarding for parents. We started many conversations with Salesforce clients and partners about how they can support the growth of the Supermums project. We already work with over 100, but we need more to fuel our exciting plans! If you'd like to find out about how your company can be a part of empowering mums into the Salesforce ecosystem, get in touch to arrange a chat with abigail@economicchange.co.uk and take a look at our Sponsorship Pack HERE
#4 Demand for our Supermums is high
Demand for Salesforce skills is growing by 18% per annum and for every expert in a role there are 1.65 open positions. We were delighted with the number of companies who visited us to find out more about hiring Supermums. Our recruitment team gets our Supermums into well-paid, flexible work with companies that share our belief that parents are a real asset to the work place. From full time positions to a few hours a week, if you are looking for a Salesforce role or are a business looking for Salesforce talent get in touch with victoria@economicchange.co.uk
#5 Salesforce people are lovely people
OK, so we already knew that, but World Tour was a great opportunity for us to really feel the Salesforce community get behind our mission. Many people came forward to offer support, from making introductions, to volunteering to mentor or be an ambassador in the territories we plan to expand into. We look forward to welcoming you all into our Supermums community. If you would like to volunteer to mentor a Supermum, provide training, develop content or be an ambassador for our global expansion so we can help mums in the US and Australia, please get in touch
Supermums Laila & Cat

The Golden Hoodie Crew
#6 We've got a LOT of work to do
It was a long day in terms of real time hours for our team, but it flew by and we all came away energised, inspired and motivated to build on the Supermums project. We've got new team members, more Supermums joining the training programme and some exciting corporate partners coming on board to make it all happen. Keep up to date with all the developments by following us on social media and signing up to our newsletter.