We are delighted to see our first cohort of Supermum Admins graduate this month, who were the trailblazers for our USA launch last November.
We were so lucky to launch our US programme at Dreamforce last year, we still have to pinch ourselves! We've had a whale of time, running from events and meetings, grabbing media opportunities and talking to so many great people from all over the world.
It was truly mind blowing to have our Supermums USA launch in the Salesforce tower in Accenture's office.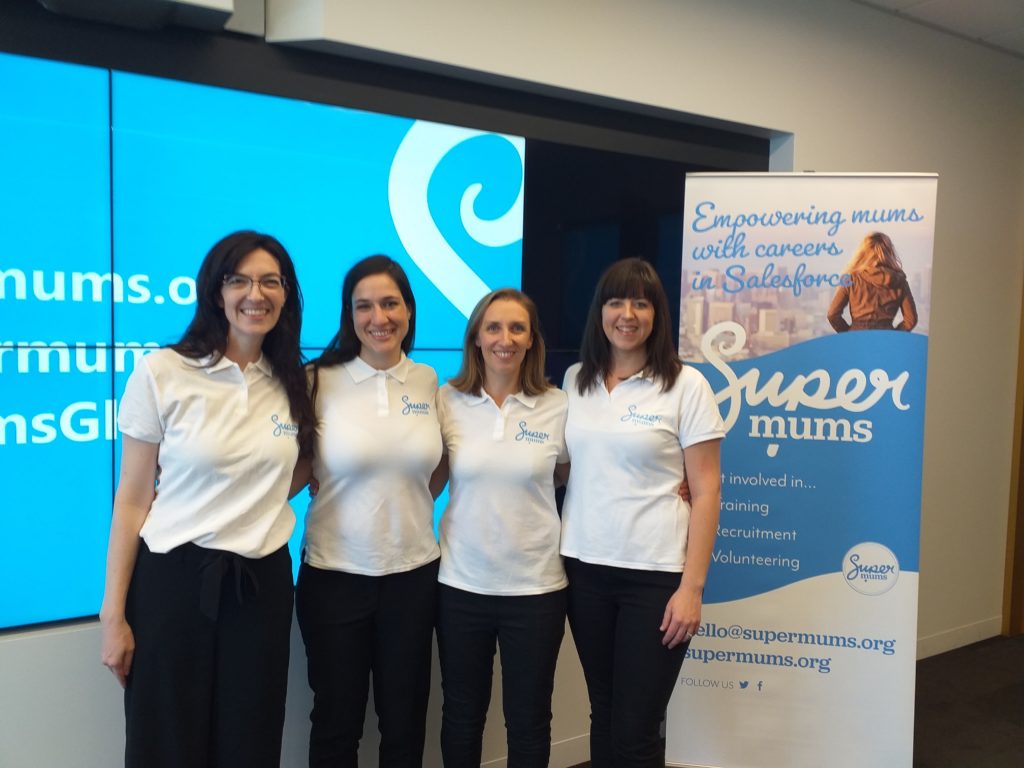 Our first USA Admin cohort of 11 trainees started in December. Roll on six months we have a new bunch of graduates looking for jobs and we have a great set of professional mums and dads currently studying on the programme.
Trainee feedback is very important to us, and we have been so pleased with the feedback we've received from these first US-based trainees, including Donna N:
"The Supermums course has kept me on track in learning and building my Salesforce skill set. I like how the course is structured, the progression and practicality. With Supermums anyone can learn Salesforce! Our coaches also provide us with feedback, tips, and advice on how to perform tasks in Salesforce. Overall, I have received value for money and currently considering doing another course with Supermums."
Donna has already joined the consultancy skills course, and earned her second Salesforce certification too!
To help us make this happen, we are so grateful to our sponsors Validity for help capacity build our launch and recruit two amazing team members – Brooke as our training manager and Chelyn in marketing and sales to give us traction.
We were also lucky to partner and broker work placements with two great Salesforce partners – Exponent Partners and akaCRM, who have taken on trainees to support their work for nonprofit clients. What do our consultancy partners have to say about working with Supermums trainees?
"The Supermums team is wonderful to work with," said Karen Stock, Senior Strategic Consultant at akaCRM. "Our nonprofit clients benefit from the extra hands and eyes and allow us to provide more comprehensive results at a lower cost."
We have had wonderful mentors who have supported our trainees along the way to embed their knowledge and feel confident moving forward. Mentor Carolyn Adams says,
"Mentoring with the Supermums program provides a way for me to 'pay-it-forward'. I had so many great mentors along my Salesforce journey, and being able to fill that role with new people coming into the fold reminds me how exciting it is to be in this ecosystem and how much of an impact this skill set can have on someone's life and livelihood. In addition to all 'the feels', mentoring helps me stay up to date on new features and admin basics that I start to miss."
Though not all of these graduates have taken the Salesforce Administrator certification exam yet, of those who have, all of them have passed on the first attempt! We are proud of their successes, and cheering on those who are still preparing to sit for the exam.
We are now actively looking to place the professional grads into work, so if you are hiring get in to touch with Hazel from our Recruitment Team.
If you are thinking about upskilling in your existing role or a change in careers, we recommend taking our Salesforce certified Administrator course. For more details click here and download a pack.