Who suffers from the Monday Blues?
You dread that alarm going off and no matter how many things you try, you're just having trouble getting going.
Why not think of Monday as an opportunity rather than a punishment?
It's a chance to start fresh. Yes you probably have a long list of things to do that you weren't able to get done the week before at work, but that's okay. You can do it! And maybe this week is going to be the week where everything on your list will actually be accomplished. This Monday could be the day when everything goes your way. It will be a week filled with gratitude.
We rounded up some of our favourite positive quotes, quizzes and webinars to make you feel inspired, fired up and ready to push you through the day.
"Your Monday morning thoughts set the tone for your whole week. See yourself getting stronger, and living a fulfilling, happier and healthier life."
"The sun himself is weak when he first rises; and gathers strength and courage as the day gets on."
"When you start to do the things that you truly love, it wouldn't matter whether it's Monday or Friday; you would be so excited to wake up each morning to work on your passions."
"Every morning you have two choices: continue to sleep with your dreams or wake up & chase them."
"You have chosen the wrong path if it's not fun. And you are probably not taking enough risk if it's not hard and rocky sometimes."
Do you want to earn £5k / $12k a month?
Do you want to work flexibly or even part time and earn £5k / $12k a month? 
Did you know that you can do this by upskilling and using the world's #1 CRM system, Salesforce?
Grab your place on our FREE Masterclass with Supermums CEO, Heather Black to find out more.
Stress Buster Quiz
Are you feeling stressed in your role?
There's a few different reasons this could happen, from dealing with imposter syndrome to lacking the tech or softer skills to fully deliver in your role.
Our stress busting quiz & toolkit can help identify your stressors and find out how to solve them – leaving you feeling more calm and in control.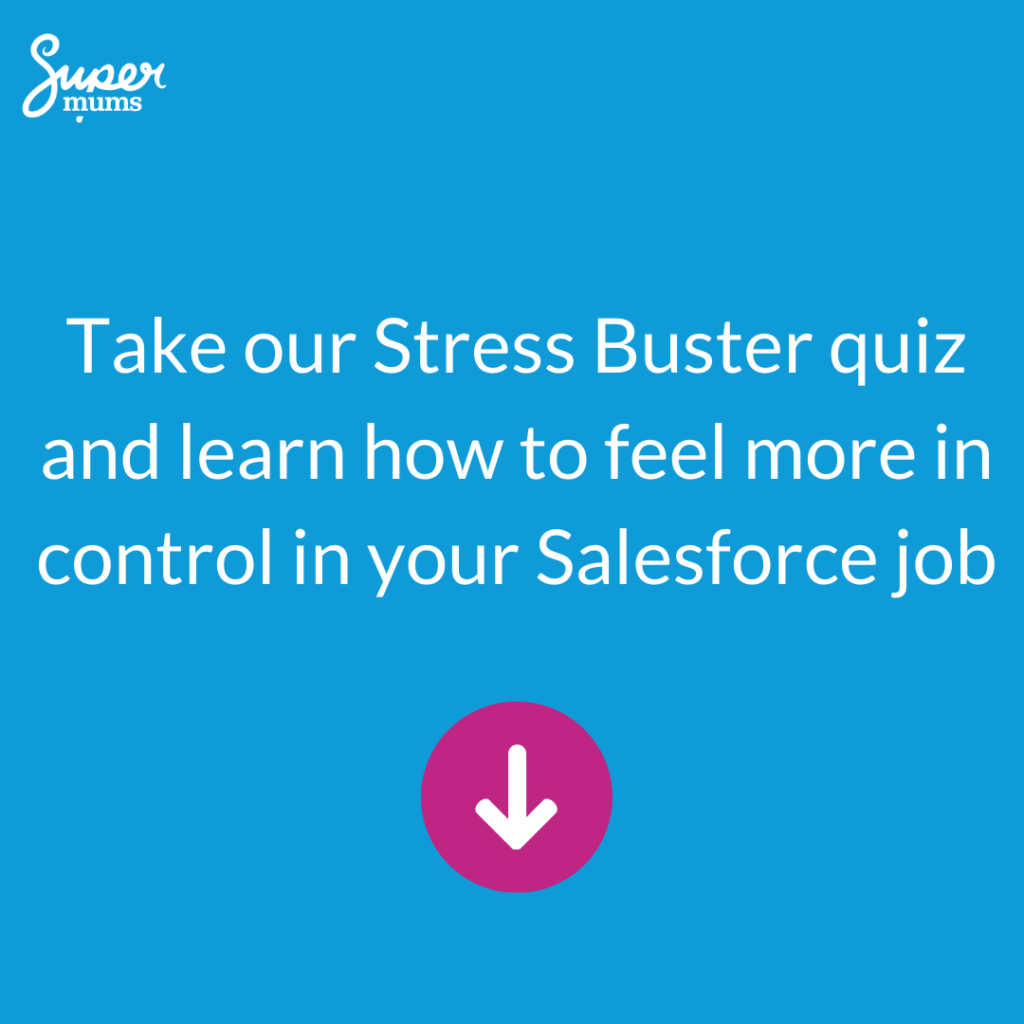 Supermums empowers mums (dads and those who aren't parents) to develop their career in the Salesforce ecosystem. No matter what you are into, this innovative sector has a place for you and you don't need to be techie to understand it but having this sought after knowledge opens so many new doors!
Our courses are remote, fully virtual and flexible around family life meaning they are the perfect fit as we offer them across EMEA, USA and APAC timezones. If you are looking for a change in careers, going back to work after time off or support in adding a new skill to your CV, check out the different courses we offer and how they might help you: