How you can learn Salesforce Marketing Cloud and get certified in just 7 weeks!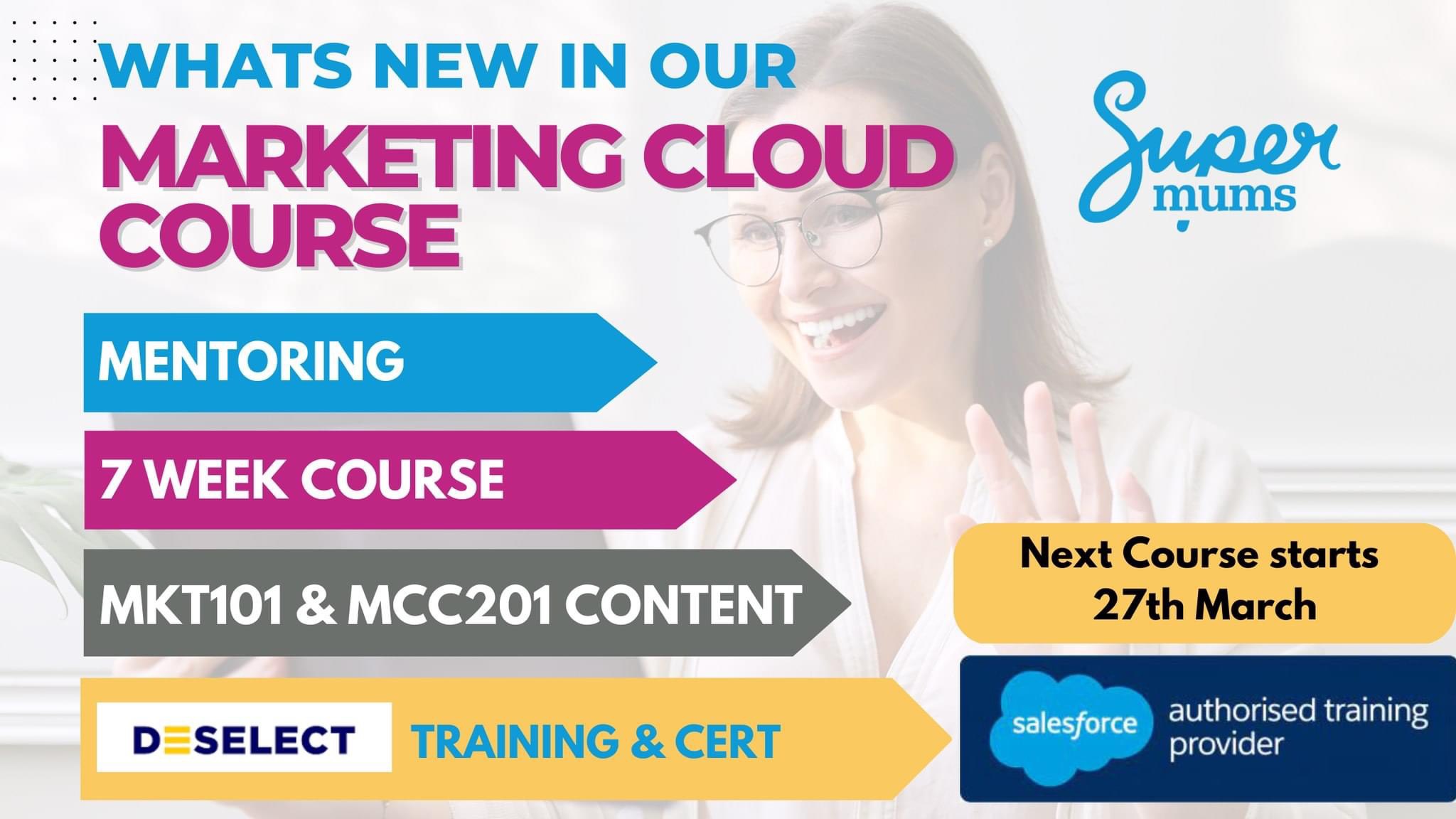 At Supermums we have added extra value to our Marketing Cloud Course to help people launch their Marketing Cloud Career with confidence thanks to our sponsor DESelect.
Supermums specialises in providing a wrap around support service for parents who want to relaunch their career with confidence, and our package of support focusses not just on technical skill training but also the softer skills and attributes that boost the confidence of individuals who are changing career or returning to work. However, alongside parents we welcome anyone else to join our course that wishes to benefit from this A to Z support package.
"We are thrilled to support the future of Marketing Cloud talent alongside Supermums! To enhance their skills and become proficient in Marketing Cloud and DESelect, these individuals will be equipped with the required knowledge to succeed in any Marketing Cloud role, making them a valuable asset to any employer seeking new hires."

Justin Plappert, Head of Marketing, DESelect
What's NEW on our Salesforce Marketing Cloud course?
Get certified in just 7 weeks – We've condensed our original 3 month course into 7 weeks meaning you can get certified faster and launch a new career quicker. How have we done this? We've increased study time to 12 – 15 hours pr week based on past trainee feedback.
Marketing Cloud Mentor – Gain access to an experienced Marketing Cloud Mentor who works in the industry to answer your questions and support your study. We are thankful to members of the Salesforce ohana for volunteering their time as mentors. 
BONUS DESelect Training & Cert – Benefit from DESelect training and certification for free, which is a great addition to your knowledge and CV to enhance your job prospects. With DESelect's drag and drop platform you can easily connect, segment, or deduplicate Marketing Cloud data – without writing SQL or relying on technical expertise.
What's staying the same on our Salesforce Marketing Cloud course?
Official Salesforce Content – The live training course still covers content from the official Salesforce MK101 and MCC201 Courses. Supermums is an authorised Salesforce Training Provider with Certified Instructors. We deliver this combined training content at a discounted rate to commercial providers. This is the best reputable training you can get on your CV / resume. 
Access to a Trial Org – You get extended 4 week access to a Marketing Cloud Trial Org to practice your practical skills and build out a demo. We would recommend you record your demo to showcase your skills. 
2 certs for the price of 1 – You will gather enough knowledge to pass your Email Specialist and Marketing Cloud Admin Certifications. 
Career Coaching Included – Benefit from Career Coaching to boost your confidence and Employment Readiness Support to update your CV / resume and LinkedIn profiles to land your first job. Our Alumni have benefited from 3 x job offers with employers approaching them based on their updated LinkedIn profiles. Our talent is in demand!
Want to find out more?
Come along to our VIRTUAL Marketing Cloud Career Bootcamp from 7 – 9 March. Join a panel of expert speakers and Supermums alumni to learn more about Salesforce Marketing Cloud, job roles available, different products and training options to explore if it's the right career opportunity for you.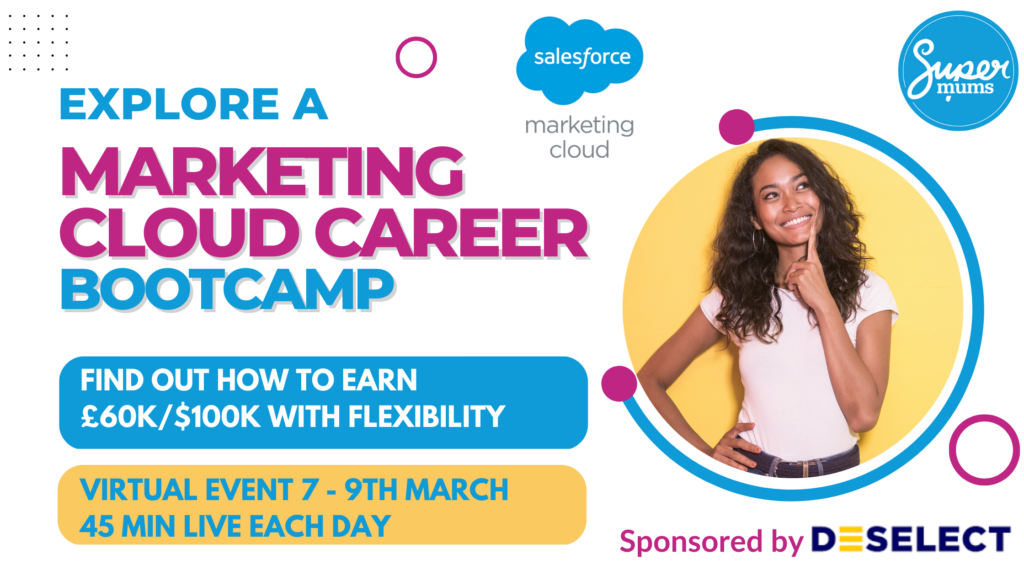 Explore our Salesforce Marketing Cloud Training Course
Build your career with an industry recognised certification. Get the skills, confidence and mindset of a Salesforce marketing cloud Specialist.
Authorised Salesforce Training 7 week Programme – we've condensed the content so you get certified faster!
Includes 4 weeks access to Marketing Cloud Trial Org.
We include expert career coaching & employment support.
Payment plans available.
Our next course starts w/c 27th March 2023.
Subscribe To Our Weekly Top Tip Bulletin
Get Updates And Learn From The Best