Relaunch Your Career – Virtual Bootcamp
Join us from 27th – 31st March to build the confidence to relaunch your career, to earn well, work flexibility and love life with our FREE 5 day virtual bootcamp.
Relaunch your Career Bootcamp
Right now you might feel confused, anxious, and worried about starting something new.
To move from STUCK to SECURE, you need to get educated and informed about the career options available to you so you can make an INFORMED & CONFIDENT decision about relaunching your career.
Our 5 day virtual Bootcamp we will help you to
Boost your confidence by instilling a positive mindset
Understand the Salesforce career options available
Help you to create a career plan with clear goals
Decide if a Salesforce Career is for you.
At Supermums, we are experts in helping people to relaunch their career, especially if you are a parent who has been out of work whilst looking after your kids. We know what it takes mentally and emotionally to reboot and step back into the workplace.
Positive
Mindset
Daily live coaching session within a pop-up Facebook group covering the 6 key attributes of an ambitious women mindset.
Career
Options
Case studies shared each day showcasing different job roles within the Salesforce sector and what it entails to inform your decision making.
Career
Plan
A career plan template for you to complete to help consolidate your thinking and to create a plan of action for your success.
This event is for you if:
You have been OUT OF WORK for a while as a stay at home mum or carer and need a new career.
You are on MATERNITY LEAVE and wondering what other career options exist.
You want to EARN MORE and have more FLEXIBILITY than your current role offers.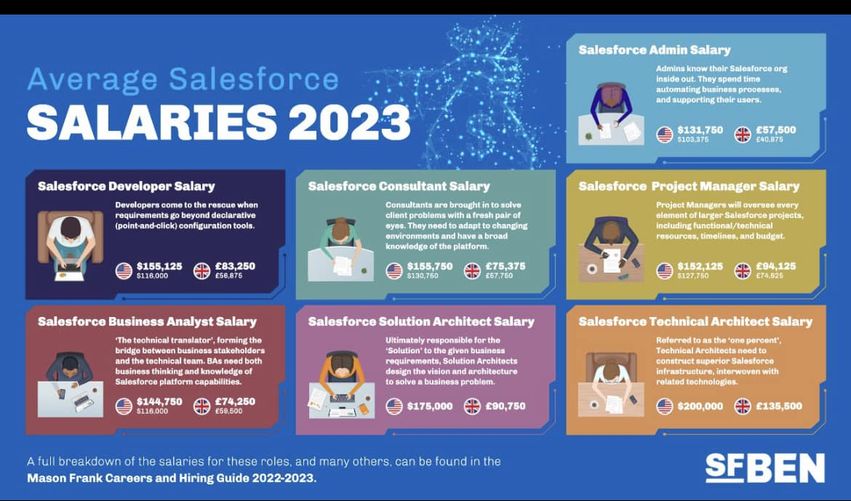 Find out more about what a career in Salesforce can offer you in terms of salary, flexibility, job roles and career trajectory. Start your new life today…
Build a resilient career in the Worlds #1 CRM Solution where demand is high and talent is in short supply.
Progress your career and double your salary to earn on average £5k/ US $10k a month.
Work flexibility by working remotely in the cloud with Salesforce CRM
Work anywhere anytime with an internationally-recognised certification. Salesforce is used by companies globally. The World is your Oyster.
Earn more by transferring your existing skills into a new career
You don't need to have a specific background or educational degree to relaunch your career in the Salesforce eco-system. There a whole range of career options to explore that lend themselves to transferrable skills and experience.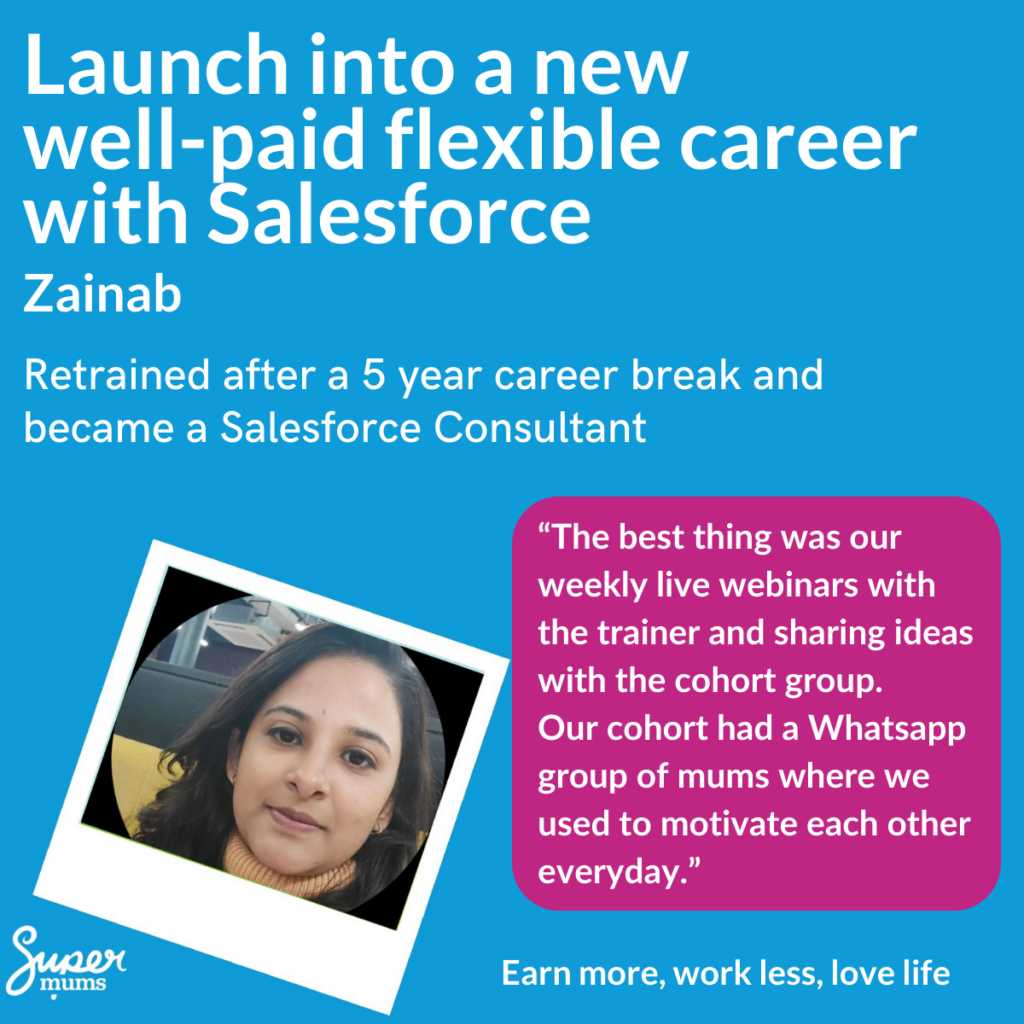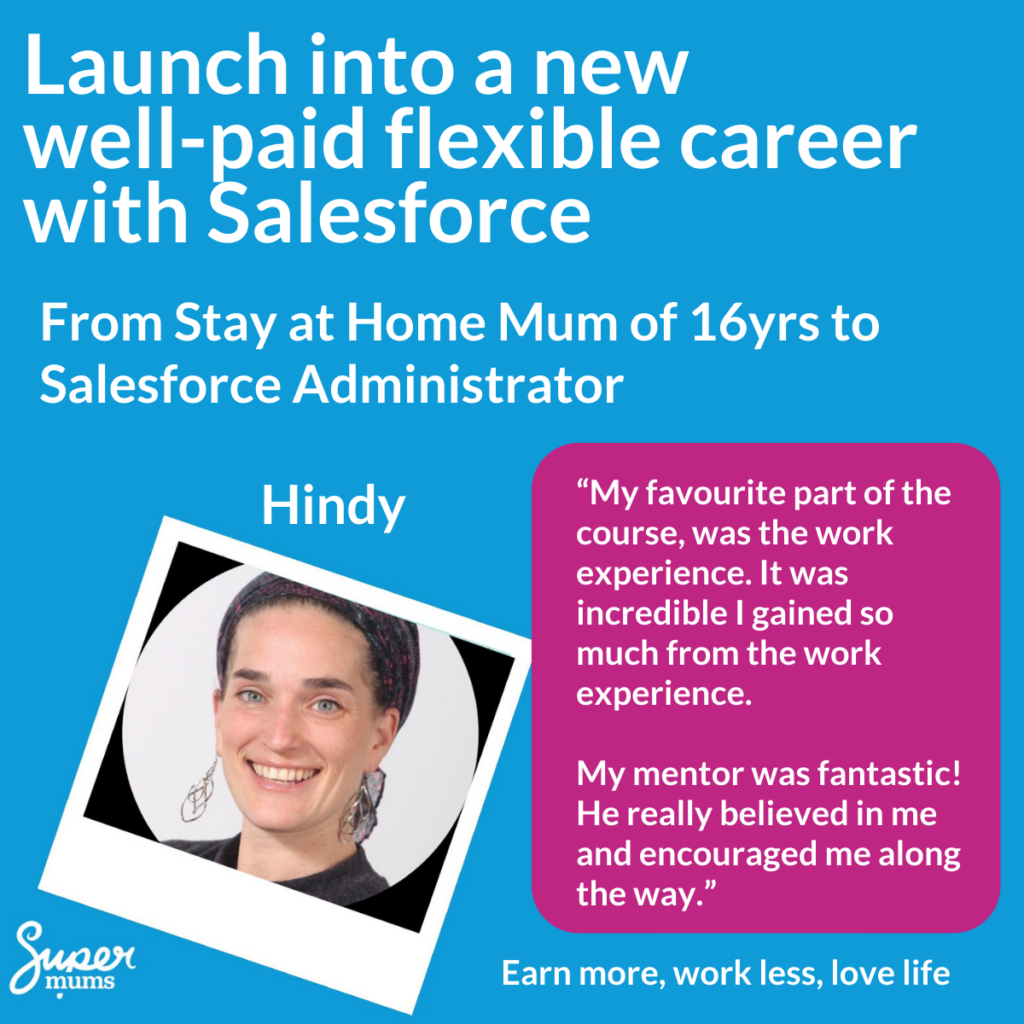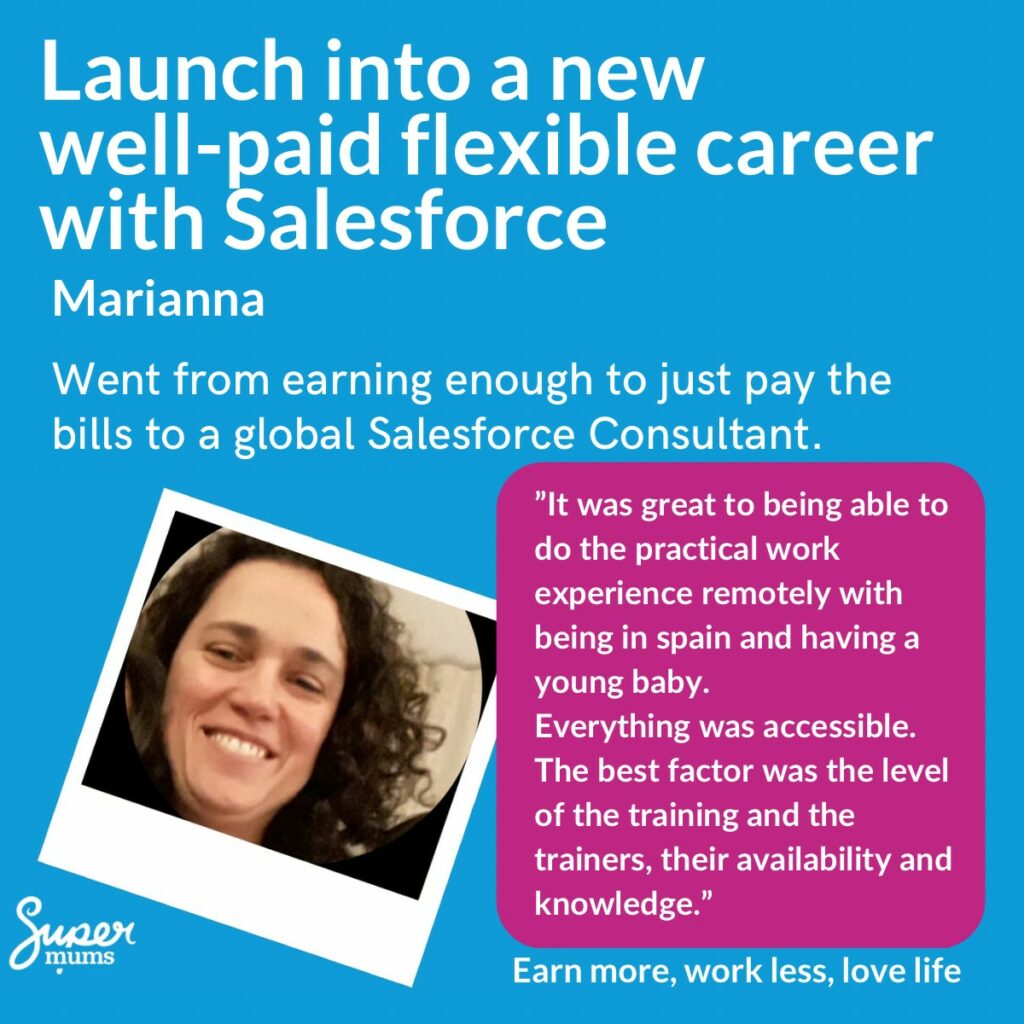 Join us between the
27th – 31st March
Join us live each day in the Facebook Group from 27th – 31st March at 8.30pm BST / 3.30pm ET / 12.30pm PT.
Work through your FREE Career Plan Template and put you're thoughts down on paper.
Sign up to a free 30 Minute Career Coaching Consultation.
Go behind the scenes on Day 5 for the last part of the Bootcamp to see what Salesforce looks like as a Salesforce Admin.
Supermums is an Authorised Salesforce Training Provider.
Sunday 26th March – Welcome Party – What are your Career Goals for 2023?
Day 1 – Learn about the Salesforce Career Options
Day 2 – How to Transfer Your Skills and Experience into a new Career
Day 3 – The 10 Steps to land your Salesforce Job
Day 4 – How to Learn Salesforce with Supermums
Day 5 – Demo of Salesforce Administration and Q&A
Join our Career Coaches for a deep dive into our Ultimate Admin course, a demo of what Salesforce looks like on the inside and ask your questions.
Our Salesforce Ultimate Admin Course
Supermums was founded by a Heather Black, a mum on a mission to raise awareness and empower other mums to learn Salesforce. She re-trained in 2012 and successfully worked 3 days a week earning £5k/$10k a month working remotely when her first daughter was born.
Launched in the UK in 2016 the demand for our virtual courses took us globally and we now offer our courses across 3 regions. We have taught 800+ mums and dads, across 10 different countries and helped over 500 companies to recruit better talent.
We are an Authorised Salesforce Training Partner with Salesforce and our courses are commercially discounted from standard rate prices as we are a non-profit organisation on a mission to upskill parents to build better lives for their families.
Our Ultimate Admin course is the foundation course and this stands out from competitors as we provide support from A to Z to help you accelerate the launch your new career with 9 Pillars of support including live remote training, real work experience, one to one mentoring, career coaching, peer group support, and recruitment advice.
A range of payment plans are provided.
Benefits of Learning & Upskilling with Salesforce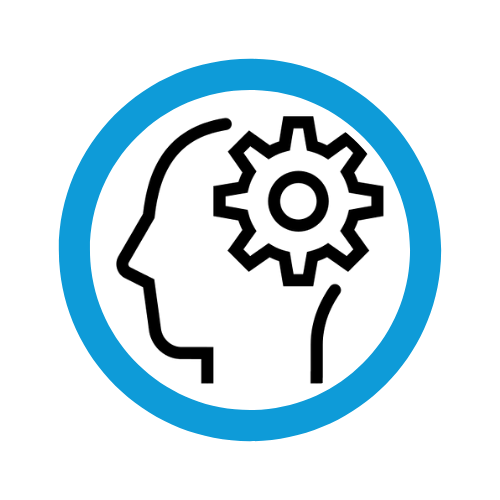 Learn the Top Product In Demand by Employers
Salesforce is the world's #1 CRM with over 150,000 customers global companies and 30,000 non-profits including 99% of Fortune 500 customers. Salesforce have predicted 9.3m new jobs will be created by 2026 but currently there isn't enough talent to service current demand never mind future demand.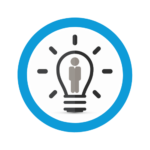 Learn the Top Skills in Demand by Employers
LinkedIn quotes that most in-demand skills by employers include Business Analysis, Cloud Computing, AI, EQ and Data Analytics. These roles align with job opportunities within the Salesforce sector so you are future proofing your career.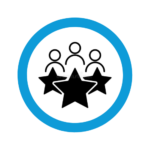 Be in Demand and Work From Anywhere
62% chose a career in Salesforce due to flexible working. Cloud Computing allows you to work anywhere and in an age where companies are offering more virtual working, we need to seize this opportunity
Register Now to save your spot on our Virtual Bootcamp – it's free!