How To Be a Great Mentor and Mentee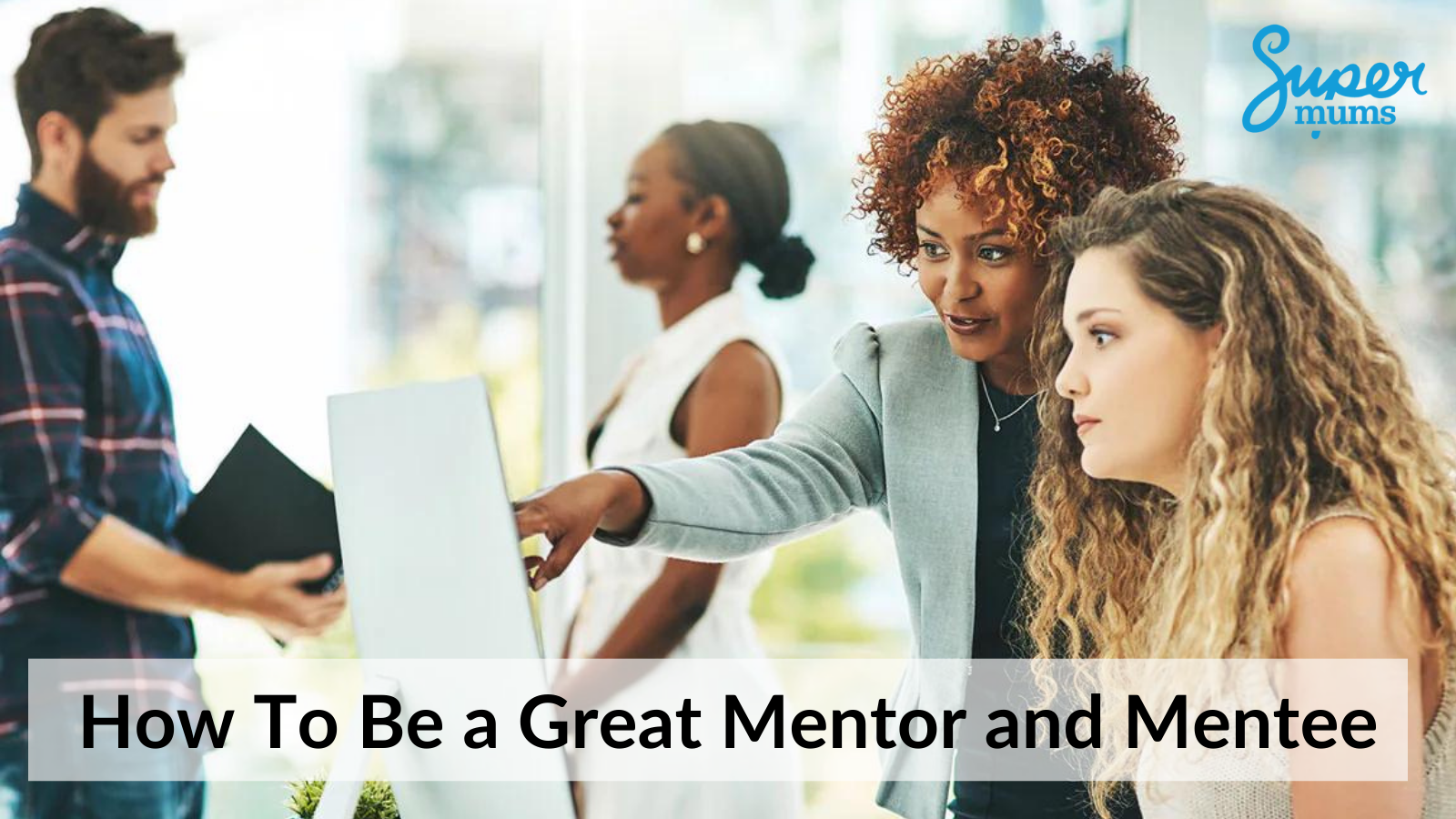 Every successful mentorship is built upon a strong mentor-mentee relationship. Embarking on your career is tough, and being mentored can help you achieve your professional goals and objectives in ways you wouldn't have otherwise expected.
This week in our blog and on episode 8 of Mums on Cloud Nine – the podcast brought to you by Supermums – Heather Black, CEO & Founder is talking about how to create a great mentoring relationship between a mentor and mentee. At Supermums we upskill mentors with training and coaching skills to lay the foundations for a great mentoring relationship so i'm going to be sharing some top tips from this training on how to lay the foundations for a successful match.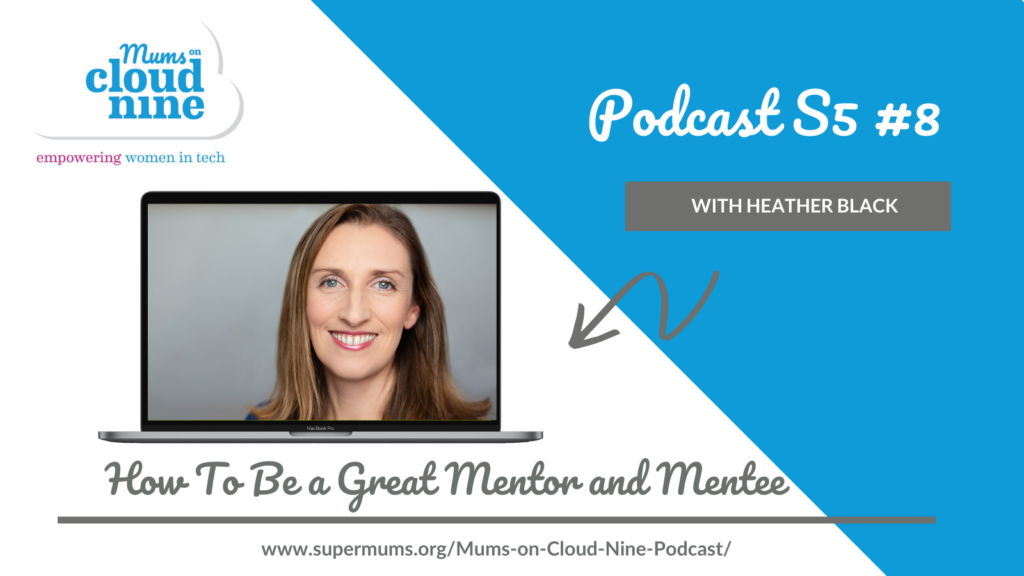 The Value of Mentoring
Are you wondering how a mentor can help you with a Salesforce Career? A mentor can offer alot of value to your career progression and self-esteem. If you are looking for someone who is more experienced than you who you can you bounce ideas off, validate your thoughts, give you assurance that you have done the right thing, and help you prep for job interview. They can even be a referee. Through the process of mentoring, mentees are supported to increase their awareness, deepen their learning, improve their performance, achieve their goals and aspirations and enhance their quality of life.
In return a great mentor will also benefit from the experience. They will strengthen their communication, management and leadership skills, understand different people's learning styles and approaches to work, and they will get a great deal of satisfaction in seeing their mentees flourish.
It's one of the reasons why Supermums include one to one mentoring a core part of our Salesforce Admin Training programme to help build the confidence of our new talent who are on their learning journey. To establish a good mentoring relationship we deliver a comprehensive training programme to upskill our volunteer mentors in mentoring skills and below we have shared some snippets of this training programme.
To establish a great mentoring relationship it's really important to have some foundation blocks, in place.
How to be a Mentor
Great mentors are motivated and have exceptional mentoring relationships. Anyone can be a mentor and yet there are 10 specific qualities that make mentors exceptional:
Reliability – A great mentor is trustworthy, consistent, and dependable. The mentee should be able to count on the mentor to show up when agreed, be prepared for the session, and have the mentee's best interest in mind.

Persistence – A great mentor is persistent. In most cases the mentor must be willing to commit to mentoring for a length of time in order to support the mentee in achieving results. Especially when working with young people, a successful mentor does not give up easily but instead keeps persistent focus on what the mentee wants to achieve.

Respect – A great mentor respects their mentee. They see their mentee's positive attributes and achievements. They honour their mentee's beliefs, opinions, background and choices. In order for a mentoring relationship to have a real lasting impact it must be based on mutual respect.

Good Humour – A great mentor has a good sense of humour. We can often be too hard on ourselves and forget to take ourselves lightly. It is the role of mentor to be flexible, know when to be silly, and when to be serious. At times, the mentee may find it hard to see the humour in their life. Like any other tool, humour, when used appropriately, can help shift the mentee's perspective and energy during the session, from stuck to unstuck.

Patience – A great mentor understands that each mentee lives their life according to their individual timeline. It is important to have patience, knowing when to push your mentee and when to give them space and time.

Intuitive – A great mentor knows how to harness his or her intuition for the benefit of the mentee. A mentor needs to be wary of relying on conscious reasoning all the time. Intuition is an incredibly powerful tool, more powerful than logic. When allowed to flow freely, intuition will tell you when your mentee is not being honest, or when your mentee is feeling scared. The ability to intuit things comes with practice. If the intuition is accurate it will make an impact. If the intuition is not accurate the mentee will let you know. Remember it is all about trial and error.

Curiosity – A great mentor is curious about ALL aspects of the mentee's life. Using curiosity, intuition, and powerful questions, a mentor does not make assumptions, but instead gains an honest understanding of who the mentee is and what the mentee wants. Curiosity will help you and your mentee get to the core of an issue and shine light on aspects that the mentee is hiding from him/herself.

Honesty – A great mentor is honest about who they are, what they are capable of, as well as what they notice in their mentee. Being truthful is incredibly important because it supports a relationship based on trust. Nonetheless, truthfulness should never be used in a malicious, intentionally hurtful manner.

Self-regulation – A great mentor knows how to regulate his or her own emotions in a session. As a mentor, your state of mind and body has an impact on the mentoring relationship. Make sure to leave your personal and professional issues outside the mentoring session. How will you know when you are not self-regulating? You may start to daydream, talk to yourself, get angry, and/or apathetic.

Commitment – A great mentor is committed to their mentee. Your role as a mentor is very important. Make sure you are clear about the time and energy commitment the mentoring requires, before you agree to the relationship.
How to Develop the Mentoring Relationship
The mentor and mentee should collaborate on the following areas:
Agree SMART Outcomes and Goals – specific, measureable, achievable, realistic and time-framed. For example our Supermum mentors will work with our clients over 6 months. Each week there are clear outcomes and deliverables to be achieved as part of the training curriculum and the mentor supports the mentee to complete the weekly homework. At the end of the six months the focus is securing the Admin certification and landing a job.
Understanding Learning Styles – Learning styles are approaches to or ways of learning. They are preferred ways of interacting with, absorbing, and processing information. There are a number of classified learning styles but the three main learning styles include: Visual, Auditory, and Kinaesthetic. Most people experience one learning style that dominates, although some individuals have a balance between all three. To test yourself as well as your mentee, search for VAK Test online. Once you know your mentee's preferred learning style(s), it is important to tailor your communication to suit them.
Creating a Mentoring Plan – Agree how, when and where are you meeting. Make it a routine so there is accountability towards outcomes and goals unless something sudden comes up that they need support with. Agree the boundaries for communication in-between meetings, e.g. phone calls and emails so you both know what is reasonable.
Create a Mentoring Agreement – The purpose of the agreement is to create a safe and courageous space for the mentee; establish the mentee's trust; help the mentor know how to work with the mentee in a manner that empowers the mentee and come to an agreement regarding how the mentor and mentee will engage.
Recognising and Handling Barriers All relationships come with barriers that when not addressed correctly can lead to the breakdown of the relationship. If barriers are identified it might be necessary to unpack what is really going on for them. For example focussing on a technical requirement might be a barrier if actually their confidence or imposter syndrome is taking a hit. A mentor is often required to support a mentee on both their professional and personal development which is where coaching skills come in as important.
What are Mentoring Skills?
Effective Listening – As a mentor, one of our most important roles is to listen. We must be able to hear what our mentee is saying and is not saying. As human beings we listen in a variety of different ways, some of which are more effective in a mentoring environment then others.
Effective Questioning – Generally, we know that asking questions is good for learning, however the type of questions we ask and how we phrase them will make a big difference to their effectiveness.
Action Planning – One of the qualities that distinguishes mentoring from other similar relationships is the emphasis on the mentee's action. For the mentee, it is about moving forward in their lives. Its' all very well to set SMART goals but if there are no action steps to reach the goal, it remains a dream. That's why one of the core attributes of mentoring is Action Planning.
Providing Feedback – Feedback in mentoring is a two-way process and should be built into the initial Coaching Agreement. This means that both mentee and mentor have permission to give each other feedback with agreement on how and when to structure the feedback into the mentoring relationship.
Giving Guidance vs Advice – This is a tricky question for a mentor. On one hand you want your mentee to be self-sufficient and through your guidance become empowered to come up with their own solutions rather than rely on your advice. But on the other, the literal definition of 'mentor' according to the Concise Oxford Dictionary is 'experienced and trusted advisor' (root *men- think). There will be times when you can offer suggestions or advice based on your own experience. The caveat here is to remember that what worked for you might not work for your mentee. Be clear that you are offering this without attachment. The moment you believe you have the right answer or the right way, you have begun to impose your agenda on the mentee's action. Be clear that you are offering this without attachment.
Handling Emotions
According to Daniel Goleman, author of Emotional Intelligence: "Our inability to notice our true feelings leaves us at their mercy. People with greater certainty about their feelings are better pilots of their lives, having a surer sense … about personal decisions from whom to marry to what job to take."
The presence of feelings or emotions is one of the inherent qualities of mentoring. When mentees talk freely about issues that are deeply important to them it often brings up feelings, which lead to emotions. Mentors are sometimes scared by emotions because they do not feel equipped to deal with them, and may assume that therapy is required. However emotions and therapy are not the same. Emotions are just emotions – e-motion: energy in motion. When someone is emotional for example angry about failing an exam, or sorrowful about finishing a relationship, it doesn't mean that he or she cannot cope – that person is simply a human being having a human reaction. If a mentee is crying, it doesn't mean that he or she is broken. That's how people sometimes express strong feelings.
It's OK for mentors to allow emotion in sessions – sadness, pain, anger, loss – and actually to encourage it. Emotion is a way for mentee to express their feelings and the mentoring session might be the only safe place to cry or be angry.
As a mentor you do not have to "make the mentee better", one of the best things to do is to let them express that feeling until it is fully cleared, until they are all "cried out". Remember how good you feel once you've had a cry or a rant – allow them to do the same.
So the main thing to remember is: with their permission, to help the mentee notice and observe whatever they are experiencing without having to change it.
This means keeping the mentee "in their experience" whether 'happy' or 'sad' rather than move onto topic at hand. This could mean celebrating when your mentee has met a love interest and feels ecstatic, even though you're mentoring is supposed to focus on their professional goals. Or it could mean exploring the feelings of dejection your mentee feels because his or her divorce has just come through, even though your mentoring is meant to focus on their career. Remember your mentee is a human being first and foremost.
Managing Conflict / Difficult Situations – Sometimes it can be hard for people to hear feedback. Sometimes mentees come to a session very preoccupied with something and it keeps them from being fully present in the mentoring. There are range of strategies you can do to support them on this emotional rollercoaster.
Venting – Sometimes mentees come to a session very preoccupied with something and it keeps them from being fully present in the mentoring. Sometimes when we are angry, outraged, guilty, shocked we can stay stuck in those feelings and nothing really moves. Venting gives the mentee 2 or 3 minutes to vent with the mentor as an active listener, letting the mentee shift through the emotions and feelings. This clears a space, so that the mentee is to be ready to be mentored or to focus on the next step.
Monitoring the Effectiveness of the Mentoring
Creating Mentoring Records – A crucial part of mentoring is keeping records so that the mentor has a clear focus and record progress. Write down what occurred in your meetings with your mentee. This could include topics discussed, activities undertaken, or any other learning points or issues that you consider important.
Reviewing Progress of Mentee – Make sure that at the beginning of each session you take five minutes to check in on how your mentee is progressing, this could be how they progressed with the actions set from the previous session, or where they are at with their SMART goals .
Reviewing Own Performance – After each meeting with your mentee it is important to reflect on what happened and your own performance as a mentor. Ask for feedback with some open questions.
Evaluation Outcomes – Revisit the outcome and goals and look at ways to measure the progress and success of the relationship for both of your either through conversation or via questionnaires.
In summary, my three top tips would be:
Agree the goals and outcomes
Create a good mentoring plan
Understand their learning style to ensure you communicate the right way
If you are interested in training up to be a great mentor or would like to be mentored yourself then check out the opportunities at Supermums.
Join our Stronger Women Summit 22
If you want more tips like this then sign up for our Stronger Women Summit Event on the 5-8th July and learn more about our Supermums and our training programmes including Coaching can help you achieve your goals. We hosted this event in 2020 and over 1000 women registered. Don't miss this years #StrongerWomenSummit22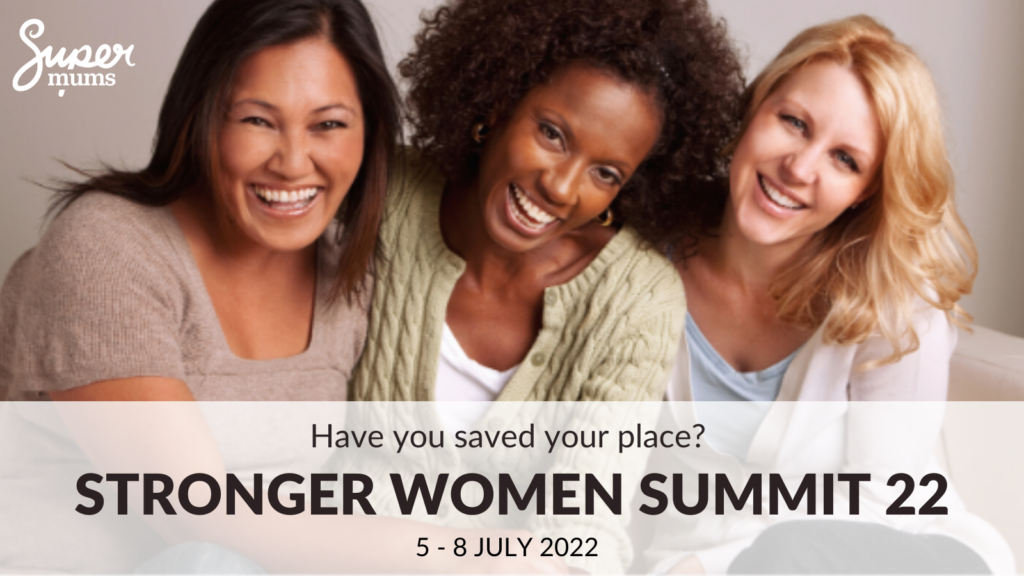 Series 5 – Mums on Cloud Nine Podcast (MOCN)
Series 5 is launched on Monday 20th June.
During this podcast series, we share tips and tricks around launching and furthering your career, and also how to manage that work-life balance, so you can create those career opportunities without compromise, burnout or stress. We're also going to share coaching tools and techniques and insights from some incredible guests.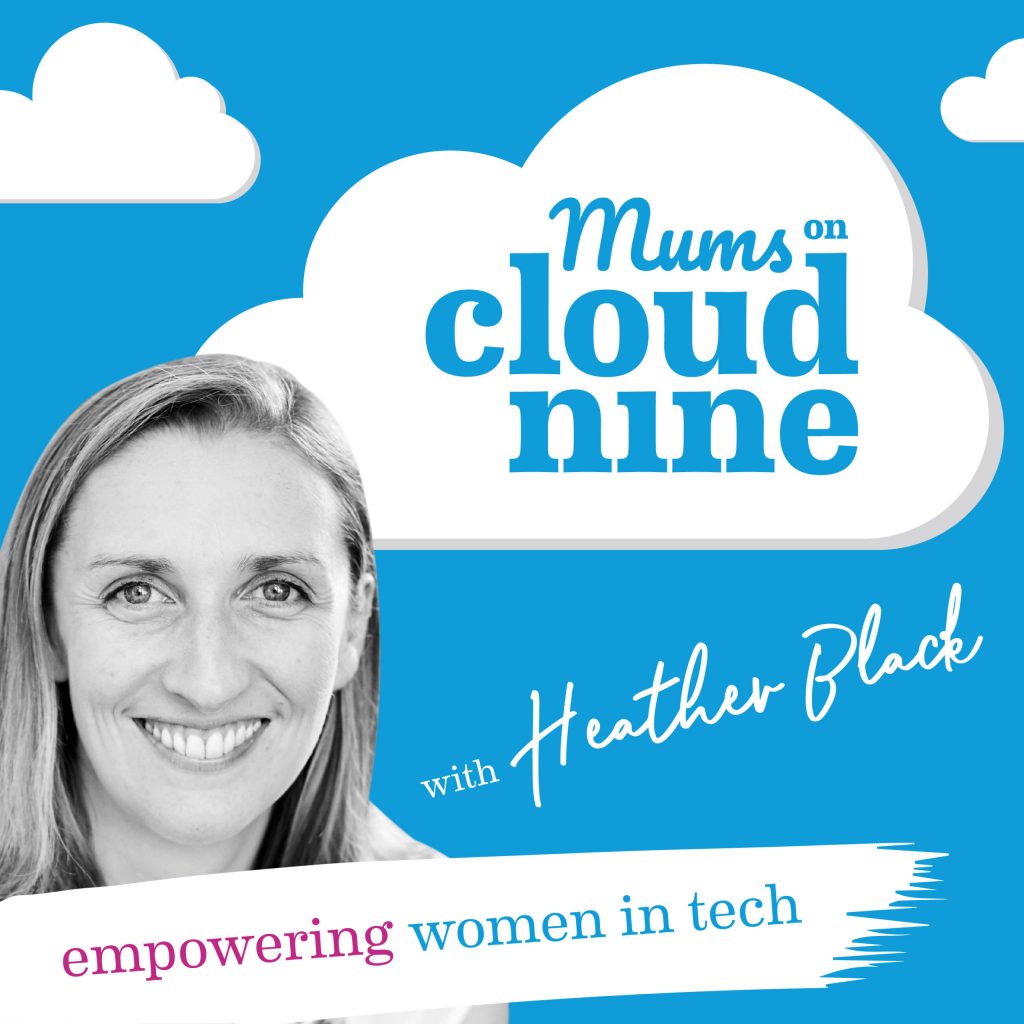 Subscribe To Our Newsflash
Get Updates And Learn From The Best